Giller Animal Hospital provides a diversified menu of professional services, with the goals of maintaining health and effectively treating ill and injured patients. You may learn more about our many services below.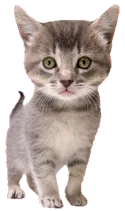 Laboratory Testing
Laboratory testing provides vital information about organ function and the immune system. Because timely results are critical, we maintain an in-house laboratory with results available in minutes.
Health Maintenance
Health maintenance uses preventative medicine to keep our patients well. Physical examinations and laboratory testing allow early detection of many illnesses before they become serious, or life-threatening.
Diagnostic Imaging
Radiographs (x-rays) allow our doctors to evaluate bones, abdominal organs and the heart and lungs. Our state-of-the-art digital radiography provides faster, higher quality images than traditional film.
Internal Medicine
Diagnosis and treatment of disease is an important part of veterinary medicine. Our doctors treat a wide range of problems, including those of the skin, eyes, ears, heart, respiratory, GI, nervous system & tumors.
Surgery
Surgical procedures are performed routinely at our hospitals using patient-specific anesthesia. Each patient is evaluated by a doctor prior to surgery and an individual anesthetic and pain management plan is chosen.
Dentistry
Dental disease is one of the most common problems in dogs and cats. Routine dental care can help keep your pet healthy for many years.
Pain Management
Dogs and cats feel pain just like people do. Arthritis, injuries, surgery and disease can all be painful. Our doctors will work with you to establish an individual treatment plan for your pet.
Orthopedic Surgery
We provide comprehensive surgical care when orthopedic procedures are required, such as ACL repairs, luxating patella, fracture repairs, and FHO procedures. The process begins with an orthopedic consultation to provide a definitive diagnosis and treatment plan.
Veterinary House Calls
We offer house calls, upon request to the surrounding area, to accommodate your pet's special needs when it is just too difficult to come in to our facility.
Senior Care
Did you know pets can be considered seniors at 7 years of age? Some health issues that affect older pets can begin with subtle changes that go unnoticed until the problem has become serious. Routine senior wellness exams and blood work will allow us to monitor and evaluate any changes that may occur.
Pharmacy
A comprehensive pharmacy is maintained at both hospitals to ensure your pet's medications are available for your convenience. We have a complete inventory of heartworm preventatives, flea and tick products, and prescription medications.
---
Our appointment book is computerized, which allows us to efficiently make appointments for you and your pet. Our receptionists and team will attempt to accommodate all requests to the best of our ability. Emergencies are accepted anytime our clinic is open. If you feel you have an emergency with your pet, please call us or come in immediately. If possible it is best to call before coming in so that a staff member can advise you on your particular emergency.
We have a veterinarian and personnel on duty six days a week who are trained and equipped to handle any urgent care your pet has. Usually an emergency team consists of at least one veterinarian and several technicians working together to save a pet's life. Emergencies can be things such as accidental ingestion of rat poison, hit by car, and chocolate ingestion. If you ever feel that your pet needs emergency treatment do not hesitate to call or come in immediately.
We are also available for urgent care when the condition is not life-threatening. If you feel your pet needs to be seen before you are able to get an appointment, our veterinarians will work to "squeeze" you in between scheduled appointments. When you arrive, our receptionists will be able to give you an estimate on how long you may have to wait in order to be seen.
Because a large number of veterinarians practice at Giller Animal Hospital, we can care for many types of pets:
Dogs
Cats
Rabbits*
Pocket Pets*
Reptiles*
Birds*
Small Farm Animals*
*Select veterinarians only. Call us for more information.
Giller Animal Hospital offers discounted services to senior citizens and local area rescue groups. Pre-approval is required to qualify for the rescue group discounts, please call us for more information.